Friday Musings
Friday musings from the typewriter: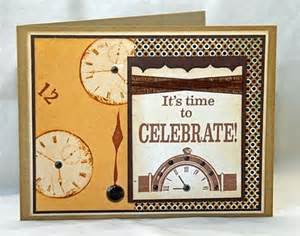 Yes. Get out those walking shoes. It is going to happen!
This Spring Joe Neussendorfer started a letter writing campaign to MDOT proposing a day for citizens to walk, ride bikes, skateboard, whatever on the newly rebuilt Jeffries. FridayMusings started covering the idea, AlphaUSA was quick to say count them in. Richard Gaskill offered to bring his beautiful Franklin auto. People were talking. Some even giddy about the thought of traveling the new road on foot unimpeded by cars.
At first it was reported that MDOT said no. Even told the Livonia Observer it was not going to happen. And now it is. Our hometown newspaper, Livonia Observer will be all over this event with full coverage as they help us celebrate the finish and the beginning.
But now you and I are invited to commemorate the completion of the Jeffries this Sunday, Sept. 21, 2-4pm.
The public is invited to join the Michigan Department of Transportation (MDOT) in marking the near completion of the I-96 project in Redford Township and Livonia, otherwise known as the 96fix. Be one of the first to walk, bike, or run on the new freeway.
Automated "driverless" cars will be featured traveling along the roadway as well. The route is on westbound I-96 from Stark Road to Newburgh Road. MDOT says the freeway is close to completion and should reopen to traffic very soon.
There will be parking at Madonna University (southwest corner of parking lot), 36600 Schoolcraft Road (at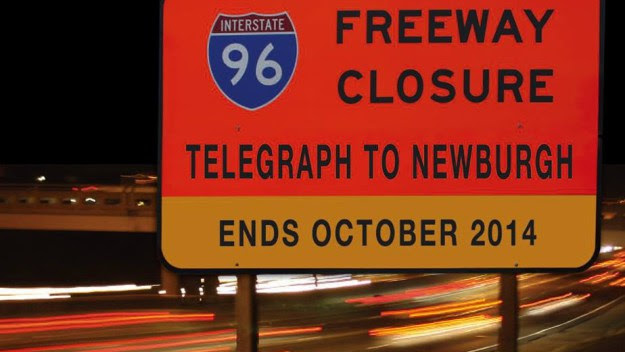 Change that sign. Ending soon.
Levan Road), Livonia. Pedestrians can then walk down the westbound I-96 exit ramp to Newburgh to access the freeway.
See you Sunday at 2:00. The typewriter will not miss this opening for anything. The state is to be congratulated on completing the project ahead of schedule. Residents are to be congratulated for enduring the interruption with such patience. Commuters are to be congratulated for the creativity for finding so many alternative routes. Businesses are to be congratulated for enduring.
And the memories for families will be awsome.
I remember when I was a part of the ribbon cutting on the opening of M-14 at the Sheldon Road exit in Plymouth Township. As a county commissioner at the time it was one of the memories I carry every time I drive past that exit. Catered meal, champagne, no traffic. Surreal.
It is time to celebrate. Livonia deserves a party on Sunday.
Oktoberfest was a hit. George Murphy's did Livonia proud.
This event should grow every year and become an annual tradition.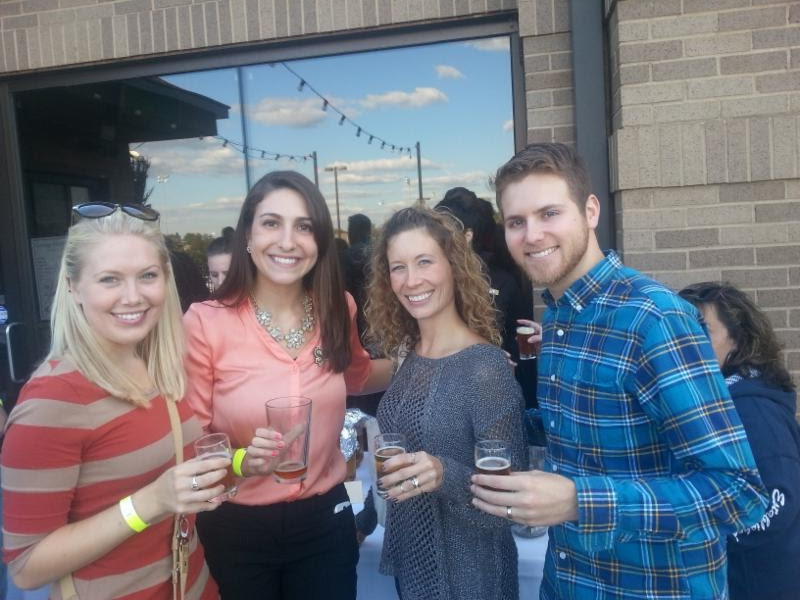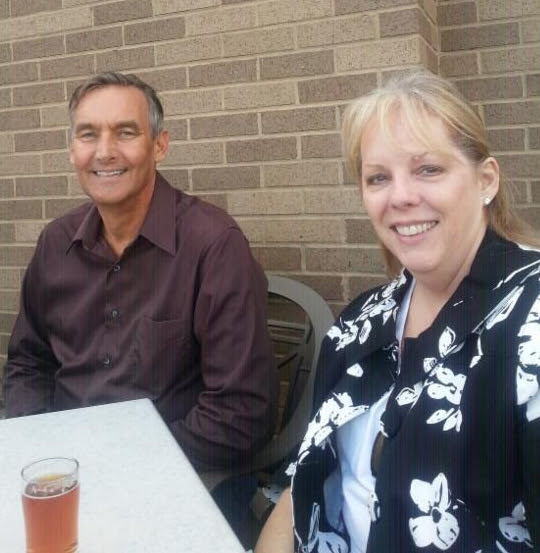 The Livonia Chamber of Commerce working in partnership with Melissa Pilzner of Raymond James Livonia and George Murphy's at the Creek put on what many are hoping will become an annual event, the Livonia Oktoberfest.
There was food (of course the typewriter noticed that first), a chili cookoff, door prizes, more about that in a minute, and samples of beer. It was an Oktoberfest after all. Seems that the first door prize drawn was won by Chris Pilzner, Melissa Pilzner's dad. Really? And he didn't donate it back. Like so I could win.
There was Dan West serving as host working with greeters
Dawnne Toppa and Laura Sweeney. Bill Fried arrived, found the buffet line and proceeded to call it the best possible meal.

Mark LaBerge moved from group to group. Dennis Wright was in and out. Sunflower Productions took over a table shared with President's Tuxedo. The typewriter caught the company even if I missed out on the names, but they are in the picture above left.

Found out that Dave Morrow is headed out to Arizona for a golf week and Gretchen Alaniz is heading out to Maine for a fall color tour.
Thank you Livonia Chamber of Commerce, Melissa Pilzner and George Murphy's. Maybe if we get the crowd up to 10,000 or more I can convince son Paul of Hermosa Beach fame to add this Oktoberfest to his travel schedule. But no, he has to go to Munich Germany.
Me, I will stick closer to my hometown.
Heading into Fall with a fun celebration. Thank you Chamber of Commerce
See so many of you tonight

Dr. Peggy Gaskill, President LCC
The typewriter is so looking forward to the 50th Birthday kick off for the Livonia Civic Chorus. Tonight, 7:00 until 8:30 or so or so or so.With so many reservations, topping 100, you know that the historic Blue House at our downtown Greenmead Village will be the place to share conversation, see old friends and make new ones.
Steve King will lead us in singing Happy Birthday to the Chorus. Mayor Jack Kirksey, Council
Donna Gleason, Director, LCC
President Maureen Miller Brosnan, Councilman Brandon Kritzman, Treasurer Dennis Wright, County Commissioner Laura Cox and State Senator Glenn Anderson will join school trustees Mark Johnson and Colleen Burton and Schoolcraft trustees Brian Broderick and Gretchen Alaniz, and so many others in officially kicking off the 50th year of one of the reasons Livonia is known for its cultural excellence.
Dave Morrow, Gretchen Alaniz and Melissa Pilzner will greet you as you arrive. Coffee is provided by the Tuscan Cafe in Northville, beverages by the Blue Plate Diner in Livonia, the birthday cake from Heritage Bakery and awesome desserts by members of the Chorus. John Walsh donated tote bags that will have information about our wonderful art organizations for everyone.
But most importantly people will congregate, talk, laugh and celebrate the diversity of our cultural experience in Livonia with theatre, symphony, singing. It is an awesome town to live.
Heading into Fall with another Fun Celebration.
Thank you City of Livonia
for starting the chorus 50 years ago.
Livonia resident and the go-to leader of the historic

Redford Theatre

Liam Neary

offers up these

entertainment ideas for all of us:




1. Free Movie Bullitt on Sunday at 2:00 PM celebrating the 50th anniversary of the iconic Mustang with classic




2. Rita Moreno arrives in one week and will appear at the theatre Fri Sept 26 8PM/Sat Sept 27th 8PM/

Sun Sept 28th 1PM - for

West Side Story!!!




Check out all the details and more at




Just a reminder for our

hometown seniors of two

programs sponsored just for you




5:00 PM at Burton Manor

The annual Glenn Anderson Senior Appreciation Dinner is free thanks to supportive donors.

Seniors who are eligible are those living in Livonia, Redford, Westland and Garden City.

Seats are limited and tickets MUST be reserved by calling his Lansing office toll-free at

(866) 262-7306

. Seniors living in one of those communities may reserve up to 2 tickets (one for themselves and one for their Senior guest).

-----------------------------------------------------------

Friday, October 10th

9:00 - 1:30 at Laurel Manor

State Rep. John Walsh (R-Livonia) is hosting the 20th annual Western Wayne County Senior Celebration Day, along with Angela Hospice and Senior Citizen Achievement Needs, a local nonprofit organization serving senior citizens.




Tickets are $5.00 for this event and may be purchased at the Livonia Senior Center.

Historical tidbit: the first Senior Celebration was started 20 years ago and hosted by Lyn Bankes, who served Livonia as both County Commissioner and State Representative.

Are your family members

Livonia has an outstanding Library. Use it.

The Kids Against Hunger

Meal Packing Event is BACK!




The Livonia Community Service Organization FORUM (LCSO FORUM) will host a second Meal Packing Event with the Kids Against Hunger Coalition on Saturday, October 18th at 9:30AM.

The event will take place in the hall of Livonia's St. Edith's Parish at 15089 Newburgh Road.




LCSO FORUM President Ron Gaffney commented that "Last year we were able to purchase, package and distribute more than 10,000 meals to the hungry in and around Livonia. Our volunteers packed these meals in only 45 minutes." This year's goal is to raise enough money to purchase and have enough volunteers to package 20,000 meals. "


Donations are needed to purchase all of the food and


supplies to package 20,000 meals. Each $25 donation purchases about 100 meals and a $100 donation purchases about 400 meals.




The current members of the LCSO FORUM are the Livonia Kiwanis Club, Livonia Junior Chamber, Livonia Rotary Club, Livonia AM Rotary Club, Livonia Lions Club, Madonna University Lions Club, Livonia Optimists, Livonia Goodfellows and the Daniel A. Lord Knights of Columbus.

See you at our

Livonia Farmers Market

Every Saturday through 10/11

8:00 -- 2:00




Brought to you by our

Friends of the Wilson Barn

1835 Livonia City Hall of Fame

Class of 2013

And so much more at our

downtown Wilson Barn




Whether you celebrate Michigan's Fall Harvest or Halloween's spookiness, there's something at the Wilson's Barn Pumpkin Fest for everyone! Feel the crispness in the air and see the orange pumpkins dotting the Barn's rolling grounds.

Sept. 27 - Oct. 30 are the dates to remember for this year's Fest! Week days from 10 a.m. - 7:30 p.m. there will be pumpkins, gourds, corn stalks, and pony rides, and hay rides, weather permitting. For more particular info on these activities above, call

734-558-5506

. Note: fees for some activities do apply.

There's more on the weekends, too! Besides all the Pumpkin Fest activities above, from 11 a.m. - 7:00 p.m., you'll be able to shop and browse the super displays of crafts inside and around the outside of the Barn.

Also, each weekend (Sat. & Sun.) from 11 a.m. - 7:00 p.m., the Wilson Barn invites you to enjoy fresh apple cider (hot & cold), coffee, hot chocolate, hot dogs, and donuts sold inside the Barn. Net funds from these refreshments benefit the Barn's many activities. Hayrides and pony rides are available on the weekends, too, weather permitting.




Spotlight to focus on Livonia

October 8th at the







Annual St. Nicholas Institute

Gala Awards Banquet