Livonia attracts artists from throughout region for VAAL's Art Exhibition
Award winners from Dearborn, Livonia, Farmington Hills and Novi
Artists, family and friends gathered at the Livonia Recreation Center on Saturday, October 11, for a reception to honor the artists and the top winners in the Visual Arts Association of Livonia (VAAL) Fall Art Exhibition. The exhibit will be ongoing until October 31, 2014 at the Livonia Community Recreation Center.
The judge of the exhibit was Grace Serra who teaches Studio Arts and Art History at Henry Ford College.
She has a B. A. from Wayne State University and an M. A. from Dominican University in Florence, Italy.
In addition she is head of the Healing Arts program at Children's Hospital.
First Place
The first place award went to Gail Churchill of Dearborn for her acrylic painting "September Afternoon."
Her art journey began in childhood in Toledo where she grew up. She took art classes in grade school and high school, won awards, and was encouraged by her teachers and her family to continue in art. She continued on to college at Ohio State University in Athens, Ohio where she received a Bachelor of Fine Arts degree in print making and lithography.
After college she continued to study art abroad including an art study in Florence which Gail said was a "life changing" experience. After moving to Columbus, Ohio she continued painting and met a group of women painters. They travelled together to Provence, France several times to do plein air painting
When she moved to the Dearborn area she found her way to the Birmingham Bloomfield Arts Association. She eventually found her way to the VAAL club and has studied with Edie Joppich and Jim Markle. Although Gail has won several honorable mention awards, this is her first "first place" award.
Gail works in many mediums: oils, acrylic, watercolor and pastel. Her favorite painters are the impressionists and her favorite way to paint is plein air. For Gail, art is a part of her life and it will be a lifelong pursuit to grow and learn.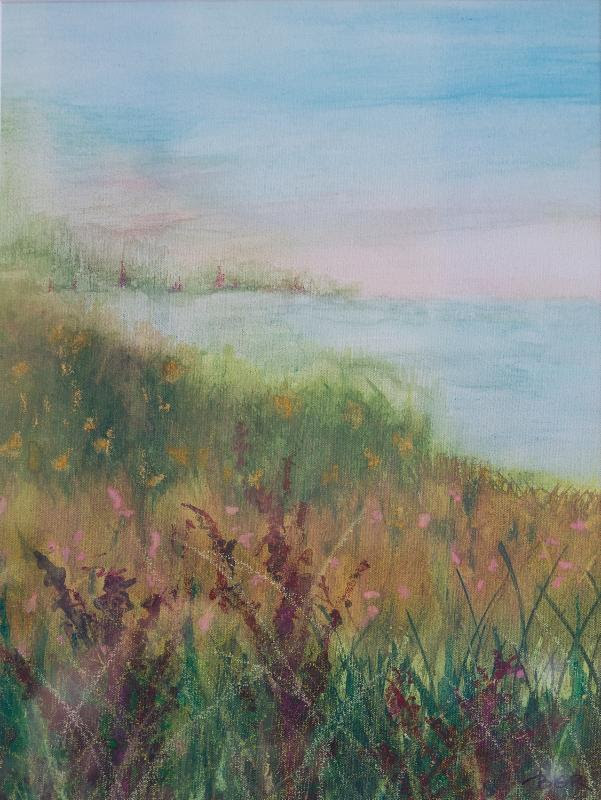 Second Place
The Second Place Award was presented to Barbara Gage Rex of Farmington Hills for her impressionistic water media, "Bill's Favorite....Near Lubec". Lubec is in Maine and it is the furthest point east in the United States. This is an area that Barbara and her husband have visited and she painted this from a photograph. Barbara started out years ago as an arts and crafts person, but more recently she has evolved into working in the fine arts.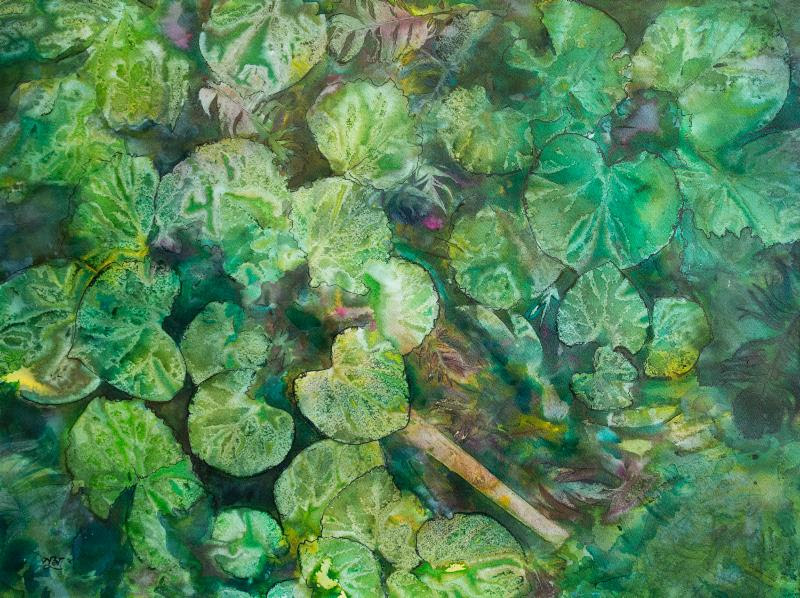 Third Place
The Third Place Award was awarded to Sue Mallick, an award winning painter, for her painting "Fallen Leaves" done in Tech Ink. She used real leaves to create an amazing effect.
After graduating from The Center for Creative Studies in 1980, Sue worked in graphic arts. When her interest in fine art became too great, she resigned in 2005 to pursue her interest in fine art.
The judge awarded 5 awards for Honorable Mention. They include: Dorothy Amberger of Livonia for "Wilderness," Allison Kardell of Novi for "Nature's Song," Kathleen Rodak of Farmington Hills for "Take a Hike," Chuck Schroeder of Livonia for "Point Aux Barques," and Jerry Valentine of Livonia for "Free Fly."
The Livonia Community Recreation Center is located at 15100 Hubbard Rd. in Livonia. The art exhibit may be viewed from 5 am - 11 p m, Monday to Friday, 6 a m to 8 p m on Saturday, and 7 a m - 5 p m on Sunday.
The Visual Arts Association of Livonia is dedicated to advancing knowledge and appreciation of the creative arts by offering studio classes and twice yearly exhibits, all open to the public. For more information about the exhibition or about VAAL call
734-838-1204
or visit the VAAL website at
www.vaalart.org.
Bring it on Michigan. Livonia knows how to celebrate art.