Friday Musings
Livonia was the political heartbeat of Michigan Thursday Night
at the Annual Banquet for the Michigan Leadership Program
Nearly 800 political junkies, current elected officials, future candidates, graduates of the Michigan Political Leadership Program (MPLP) sponsored by Michigan State University were wined and dined in Livonia at the 19th Annual Banquet of the MPLP.
Former New Mexico Governor Bill Richardson joined former Minnesota Governor Tim Plawenty in a spirited, polite and policy-based discussion on issues from the 2016 election to the US-Russia showdown in Eastern Europe.
The typewriter shared time with Governor Plawenty informing him that brother Dr. Bob of San Antonio fame had told me in 2011 that Plawenty would be the nominee of the Republican Party in 2012 and would be the next President. He thanked Bob and told me that his only ambition was to play hockey with the Minnesota Wild.
This was the fourth banquet attended by the typewriter having dined with
Mack McClarty, Dana Perino, Ari
Fleischer and Eugene Robinson. In the past the typewriter was able to attend thanks to State Senator Glenn Anderson and this year was fortunate to be invited to sit with the table sponsored by PVS Chemicals.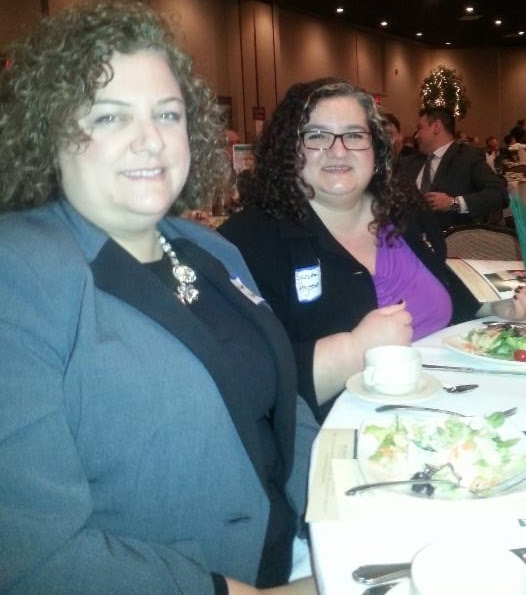 Livonia residents Amy Fangboner, PVS Chemicals, and attorney Suzan Hyssen.
But the typewriter was not alone. Councilman Brian Meakin was chatting with former Council President Jim McCann. Clerk Terry Marecki was standing with Treasurer Dennis Wright. I joined the conversation with Commissioner Laura Cox and State Representative John Walsh. Mayor Jack Kirksey chatted up Planning Commissioner Kathleen McIntyre who was graduating from the MPLP program.
The advance work done by the Bodyguard was excellent and allowed for a smooth flow through the banquet hall.
Debbie Dingell worked the tables as did former owner of the Observer-Eccentric newspapers Phil Power. Power was seen in animated conversation with Kirksey just before the dinner started. State Representive Richard LeBlanc was proudly showing off pictures of his newly purchased golf cart and promising to be at the Musings Bake Sale in April.
The typewriter congratulated Glenn Anderson for sponsoring legislation banning the sale of e-cigarettes to minors. Did not get a chance but wanted to, to discuss his recent trips to England and Washington D.C.
It was great to see so many Livonia folks celebrating the best and brightest of Michigan's political future and listening to two national political leaders discussing how our system is broke and that cooperation is needed and necessary.
Thank you Amy for the ticket. It was a great night.
Seedlings Bowling for Books is set

for Saturday

March 22nd.


And the drama continues with a tournament within the Bowling for Books.

Four teams have signed up to take on FridayMusings. But let's be clear, Plaza Lanes will be wall to wall with bowlers, volunteers, cheerleaders at what is without a doubt the most fun fund raiser for our hometown's greatest outreach charity--Seedlings.

FridayMusings
aka The Green TEAm
Livonia Observer
aka Ink by the Barrel
Bob Hardies (F&PA)
aka Advise and Consent
Dan Maciver (F&PA)
aka ?
Gretchen Alaniz
aka Easy Riders


Odds have been set with the following line:

Musings 2-1
Alaniz 4-1
Observer 5-1
Hardies 7-1
Maciver 8-1

The odds were set after it was announced that Musings was bringing in Dave Morrow to bowl anchor and Karen Stanley leading off.

Word on the street has it that the Alaniz team is spending all their time designing a t-shirt.

Additional word has it that Ken Abramczyk, former reporter with the Livonia Observer and now exhibiting his photography in Arizona, might fly in to anchor the Observer team. No word if Lisa Walker is to be the secret weapon if Abramczyk misses his flight.




Dan Centers announces his campaign for Schoolcraft College Trustee:

Dan Centers is an executive with the Boy Scouts of America, overseeing the Ottawa District.

Previously, Dan worked for the State of Michigan's Department of Community Health. Within this position, he created and implemented programming for children with autism and other mental disabilities.

Dan was also a teacher in the Farmington Public Schools and a member of the Michigan Education Association. Previous to this experience, Dan was a second grade teacher in Queen Creek, Arizona and was a member of the Arizona Education Association.

DanCenters graduated with Honors from Madonna University in 2007. He was invited back in December 2013 to the University's annual Dios Gracias event and was awarded the Franciscan Values Award. This award is given for outstanding leadership and service to the community.

Dan is a member of the Livonia Jaycees. In 2013 he was awarded with Project of the Year for hosting a November fundraiser that benefited the American Cancer Society.

Also, Dan is a long-time member of the West Oaks Civitan Club. He is active in orchestrating the club's efforts in supporting children's literacy through fundraising and the implementation of the "Six Books One Summer" program.

In 2013, Dan was appointed to the City of Livonia's Art Commission. In collaboration with the commission, he hosts a variety of events including the "Fine Art Reception" and the summer "Music From the Heart" concert series.

Dan is a long time Livonia resident. He is a product of Livonia Public Schools and an Eagle Scout from Livonia's Troop 889.

He and his wife JaniceCenters have been married since 2008. Together they enjoy hiking, baseball, movies, family, and community service.



In making her announcement for Wayne County Commissioner Livonia City Clerk Terry Marecki posted the following on her facebook page:


Hi Everyone. Thank you for the support in my run for Commissioner! I am honored to be supported by so many city officials and by so many of my friends in this area. I will be updating you on what is going on in the county of Wayne and what you should be aware of as tax payers.

The only way this county is going to start on track again is if the people (you) demand accountability by the decision makers downtown!

Laura Cox has at every turn, demanded accountability at Wayne County. I will continue that same philosophy and make you aware of what is going on with your tax dollars.

Thank you again and please contact me with any concerns or ideas you have for your county!
Marecki and Councilwoman Laura Toy will both be on the ballot in the August primary election.



Fundraiser: State Representative John Walsh and Commissioner Laura Cox are hosting a party for Marecki on March 27, 5:30, at the Wintergarden Tavern. Cost is $75. To RSVP call

734-377-2824

.

On March 13th, 5:30, One Under Bar and Grill, will be the site for fund raiser for Laura Cox running for State Representative.

Individual tickets are $50 and those with questions

or wanting to RSVP

1835 Livonia City Hall of Fame

Class of 2014

FridayMusings is pleased to announce the first three inductees to the 1835 Livonia City Hall of Fame Class o 2014. From the $3 million dollars raised and donated back to the community by the Hearts of Livonia to the tens of thousands of smiles put on the faces of our neighbors with the celebration of the arts by the Livonia Civic Chorus to the thousands of student lives touched with an appreciation of musical excellence provided by Dr.

Jerry Smith we are sure you will agree that the quality of life has been enhanced by these three new inductees.

Next week we will introduce the additional three inductees. But now meet our three newest members of the 1835 Livonia City Hall of Fame to be inducted this October:

Hearts of Livonia, Inc., i

s a

Livonia, Michigan based charitable organization dedicated to the concept of "giving a little back" to the community. It was originally Established in 1978 to buy advanced life support equipment - primarily acute cardiac-care technology for the emergency room at Livonia's St. Mary Mercy Hospital. Successful local businessman Ben Celani, recognizing the hospital's need for emergency care equipment, was the predominant driving force behind the founding of the Hearts of Livonia.

Since that time, the organization has given over $2.9 million back to the community through contributions to St. Mary Mercy Hospital and other notable charities, as well as providing over 160 college scholarships for Livonia resident high school students interested in careers in the fields of medicine, criminal justice, or education.

31 Years of Contribution 1977 - 2009

| | | |
| --- | --- | --- |
| St. Mary Mercy Hospital | | $ 1,268,000 |
| Angela Hospice | | $ 116,000 |
| Scholarships and other Community Charities | | $ 1,486,100 |
| Money raised in 2007 - allocation TBD | | $ 40,000 |
| Total raised since 1977 | | $ 2,910,100 |

Livonia Civic Chorus

is a Livonia non profit that has entertained

tens of thousands of Livonia residents at formal concerts, venues thoughout southeast Michigan and with programs at nursing homes, Greenmead and City Hall since its inception in 1966.

ln 1965 the choir of St. Maurice Church of Livonia was disbanded. The members, however, shared a love of choral music and continued singing in members' homes. One of the members heard that the Department of Parks and Recreation was considering sponsoring a mixed singing group. The director of the department was approached with the proposal that the former choir could form the nucleus of that group. A public notice announcing the formation of the group and inviting new members was published. Thus, the Livonia Civic Chorus, as it came to be known, was born.





The music of the chorus has ranged from simple unison numbers to challenging, intricate harmonies. But more than just vocal talent has been exhibited when costumes, sets, choreography, creative writing and organizational skills are considered. Artistic talent, creativity and a dedicated work ethic are essential to the continued success of the Chorus.





In addition to the concerts performed throughout the region the Chorus prepares for two main performances a year. The first season begins in September as the Chorus prepares for a winter holiday show performed in December. The second season begins in January to prepare for the spring show in May.






Dr. Jerry Smith

know as Doc to his students o 26 years at Bentley High School has also served as the Minister of Music and Worship in a

number of settings for over 52 years, including positions at Trinity Baptist, Redford Baptist and Ward Presbyterian Churches prior to joining First Presbyterian Church of Plymouth. Jerry serves as the coordinator of worship, including oversight of all special music for the worship services and overseeing all music organizations at FPCP. Jerry also serves as the Director of the Chancel Choir.

Jerry is a graduate of the University of Michigan Ann Arbor. He has earned a Bachelor of Music, a Master of Music and a Doctorate of Education at U of M.

Jerry is married to Sharon, who is a professional pianist and accompanist at FPCP. They have 3 adult children, Darrell, Kimberly and Carole.

In addition to the church, Jerry has taught in public schools throughout Metro Detroit. He served as the Director of Music at Bentley High School in Livonia from 1959-1985. Jerry also enjoys reading and traveling in his spare time.

Meet the Inductees of the

1835 Livonia City Hall of Fame

Every year since 2005 the annual 1835 Livonia City Hall of Fame Induction Ceremony has been held the first week of October.

The Induction Ceremony has been the gathering place for an incredible community of creative thinkers and innovators, the source of so much of what has been given to Livonia since our incorporation as a Township in 1835 and as a City in 1950.

The efforts of those inducted have helped create a sustainable hometown of which we are all proud.


We acknowledge the efforts and meet to advance the work and continue the recognition of leaders who have dedicated a portion of their existence to bettering a town they live in or work in.

Look over these inductees, smile and say thank you for building a hometown of which we are all so proud:

Class of 2005


Ira Wilson, Alexander McKinney, George Nelson Benley ,

Mable Ault, Jesse Ziegler, Ben Yates, Dr. Maxwell Stewart, Richard Joyner,Geraldine Joyner, John Dufour,

Edward H. McNamara, Phil Power, Bob and Janet Bennett

Class of 2006

Dr. Don Friedrichs, Jack Kirksey, Patrick Duggan, Joan Duggan, Mike Duggan, Debra Bonde, Alexander Blue, Ken Bourgon, Electra Stamelos, Sue Daniel, Bill Fried, Peter Ventura

Class of 2007

Lee Landes, Fernon Feenstra, Sam Prisk, Louis Schmidt,

Sister Mary Giovanni, Rudy Kleinert, Bill Warren, Roland Upton, Sister Mary Francilene

Class of 2008


Dan Andrew, Bill LaPine, Harry Greenleaf, Paul Kadish,

Sheila Taormina, Joe and Jane Soltesz, William Brashear,

Paul

Chandler, John Vroman, Conrad Gniewek

Class of 2009

James Mies, Lyn Bankes, Bob Dietiker, Rosina Raymond,

Stan Anderson, Sue Rosiek, Friends of the Library, Alfred Noble, Sheldon Land Company

Class of 2010

Richard McDowell, James McCann, Keith Geiger, Ed Katz

Bill Heaton, Lee Morrow, Jack Engebretson,

Joe Taylor,

Class of 2011

Charlie Mahoney, Laura Callow,

Harvey Moelke, Midge Ellis, Livonia Town Hall,

St. Mary Mercy Hospital,

Orchard, Hiltz & McCliment (OHM)

Class of 2012

Bill Brown Ford,

Felician Sisters,

Livonia Rotary Club,

Marge Roach,

Robert Bishop,

Alice Gunderson,

Francesco DiBlasi,
Livonia Youth Symphony

Class of 2013

Alpha USA, Friends of the Wilson Barn,

Bill Bresler, Mary Dumas, Joan McCotter,

Jan Welch, Robert Nash

April 26, 9-12 at the Musings Estate get ready for the:


Good Old Fashioned

,

Sometimes

Annual

,

but always fun

,

Once in a While

,

Occassional

Bake Sale

Plan now to bake some cakes, make some cookies, sour dough that bread and bring along some brownies.

Proceeds to be donated to the Livonia Civic Chorus.

There will be singing, baked goods for sale, celebrity hot dog roasters, authors autographing books and of course lots of great people stopping by to say hello.

Drop the typewriter a note if you would like to donate some baked goods to this great day.

Donations already committed:

1. Sue Poster---some baked goods

2. Kathy Ventittelli---German Chocolate Cake

3. Heritage Bakery---something good

We will have a bunch of neighbors from throughout our hometown pulling up chairs and sharing the morning or dropping off baked goods for us to sale.

SAVE THE DATE!

A fun night in Livonia

Wednesday April 2

The typewriter has called this the best night of entertainment hosted in Livonia every year. It is one that he will not miss.


Step back in time and join The Murder Mystery Company as you rub elbows with the stars in the glamorous 1930's show, "Best Laid Plans".

Everyone who's anyone has arrived at local philanthropist Sir Warren Peace's elegant home for an evening of decadence, but beware...someone will do anything to get their hands on Sir Warren's wealth!


Dinner will be served, and the silent auction will be back as well!


Funds go to a scholarship, created in Anna Bonde's memory, benefits graduating seniors in the Creative and Performing Arts program at Livonia Churchill High School. Over the past four years over $25,000 has been raised.


Facts you should know:

Wednesday April 2nd - 6:30pm\

Burton Manor

Tickets are $20 for students/seniors, $25 for adults

OR to pay by check or make a donation, please mail total payment and list of guests to:


Debra Bonde,

34721 Pembroke Ave,

Livonia MI 48152

**Make checks payable to "Emmanuel Lutheran Church**