Friday Musings
2014 Stevenson Graduate now on loan to USA and Canada
Special to FridayMusings from Grandfather John Elkins
It has been a while since I last shared a boastful e-mail about my grand daughter Madison DeLuca.
As you know competitive figure skating has been her passion for her entire life.
After graduating from Stevenson High School in June she was contacted by the Disney production people asking her to audition for a role in their Disney On Ice touring show "Worlds of Fantasy". She auditioned from here via film and in Ellenton, Florida before their production staff. She passed unanimously and leaves for rehearsal and training in Florida in two weeks, Her first live show will be in Sunrise, Florida in Mid September. From there she will tour major cities in the United States and Canada.

This is literally a dream come true for Maddy, a dream she has put an enormous amount of time and dedication into. Not long ago you wrote an article for FridayMusings about her titled, "Born In Livonia, On Loan To The USA". An addendum to that title can now read, ........... 'On Loan To The USA and Canada".

"So many from Livonia that we can be proud of. All the best Maddy. Your extended Livonia family will be following you. Livonia is a great place to call home."
the typewriter
City Hall Back Porch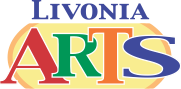 Arts Commission
See you tonight and
Another Thursday Happening.
August 21 - 7:00
Steve King and the Dittilies
Reminder:
Time to RSVP for the
50th Anniversary Kick Off of the Livonia Civic Chorus
at the Blue House in our Historic Greenmead Village. This is a party, not a concert, on September 18, 7:00 pm, with awesome desserts, beverages, great people, good conversation with old and new friends. Proclamations so far being presented by State Senator Glenn Anderson and Council President Maureen Brosnan. RSVP by calling
734-542-9071
or
emailing here
. Cost is only $10. How can you go wrong. Reservations limited to the first 125 and they are rapidly approaching a sell out for the kick-off party. Get yours in today.
Did you know that over 600 have performed in the Livonia Civic Chorus before nearly 50,000 patrons? That the Chorus has performed at Greenfield and Greenmead Villages? That Fernon Feenstra was at one time President of the Livonia Civic Chorus? That the typewriter can't sing?
The typewriter. More than just a short, chubby fat guy.

The bodyguard. More than just a protective service for the typewriter.

FridayMusings, a public service provided by Think Ink, with Bill Joyner as creative director and Kathy Ventittelli graphic artist, has created a number of positive Livonia outreach programs using our Livonia Observer in coordination with Livonia families, businesses and art groups.




We Love Livonia Ad scheduled

for September 28. $32 for

a family listing which includes a free Livonia t-shirt.




Here are just a few of the campaigns organized by Think Ink with and in support of our hometown:




2009 We Love Livonia Ad

Full Page Livonia/Redford




2010 We Love Livonia Ad

Full Page Livonia/Redford




2013 We Love Livonia Ad

Full Page Livonia/Plymouth

2011 Livonia Arts

100,000 homes

Full page Wayne/Oakland

Shop Livonia

Sponsored by Livonia

UPS Store

100,000 homes Spring & Fall

Full page Wayne/Oakland

See you at our Livonia Farmers Market

Every Saturday

8:00 -- 2:00

Brought to you by our

Friends of the Wilson Barn




1835 Livonia City Hall of Fame

Class of 2013

Swami Beyondananda Cosmic

Comedy Show arrives in Livonia

Swami Beyondanada, the Cosmic Comic since 1985, will bring his unique and uplifting c

omedy to Michigan on Friday, September 26

th.

The laughter begins at 7 pm. at Unity of Livonia, 28660 Five Mile Rd. The show is a FUNdraiser for the Citizens for Peace and Unity of Livonia. Tickets are $20. in advance, or $25. at the door. For tickets, call 734-425-0079 or 734-421-1760.

Swami Beyondananda is the alter ego of writer, humorist and workshop leader, Steve Bhaerman. The Swami, whose favorite yoga pose is tongue-in-cheek, is the spokesperson for a new non-religion, FUNdamentalism (accent on "fun"). Says the Swami, "We are strictly non-dominational."

Steve was pursuing a career as a teacher and writer, when a funny thing happened. The name "Swami Beyondananda" flew into his head one day in 1979. As Steve tells it, "I got struck by enlightening during a brainstorm."

The following year, when he and a cohort were casting about for a comic mascot for their ground-breaking holistic publication, Pathways in Ann Arbor, Swami's name popped back up. Pathways was one of the first publications bringing together holistic health, personal growth, spirituali

ty, and politics.

Before long, Swami was the most popular feature in Pathways, as he held forth on topics such as "Everything You Always Wanted to Know About Sects" ("... unbridled sects can lead to unwanted misconceptions ...") or Tantrum Yoga ("... the latest rage on the path to ire consciousness").

When Steve decided to pursue comedy as a full-time career in 1985, the Swami was the obvious vehicle.

Audiences have delighted in the Swami's "comedy disguised as wisdom" and "wisdom disguised as comedy". Attendees will have the opportunity to ask the Swami answerable questions, and receive his "questionable answers".





The typewriter absolutely loves getting mail from readers of Musings.


And it sure beats getting bills via snail mail.


Sue Poster: Love the t-shirt and sticker. We have a wonderful town. I make a great pecan pie!



Typewriter: Tell your husband I will be camping out on the front porch.


Linda Curry: I don't think that the candidates can influence the nefarious, dark money, organizations who are "helping" them. I suggest putting your support behind organizations like

Rootstrikers

, Move to Amend or Mayday PAC (the work of Lawrence

Lessig

). It is a long uphill battle, but the fight against this powerful, corrupt money is very difficult. Thank you for speaking out on this important issue.



Typewriter: I used to give money to PAC's until I discovered that most of the money would be spent out of state. I now only donate to candidates that are running in districts that include the town in which I live. I think Peters would win in a landslide if he stood up and said he was against any out of state money coming to Michigan. Remember William Proxmire of Wisconsin who would spend $200 per election and would win with 70% of the vote for US Senate every time.

Call me a pollyanna but I would rather lose being right than win being bought.



Dave Lindenmuth: While on Kauai (yes, it is election time there as well) I was dumbfounded to see that NOT ONE commercial there slammed another candidate. They never even mentioned the opposition. Instead of running as "not as bad as the other guy" they actually spoke of who they are, what they believe in and what they hope to do if elected! WHAT A CONCEPT!



Typewriter: Hawaii? Really. Just rubbing it in I am sure. Hope that you arrived after the hurricanes.


Debra Bonde: Thanks for incuding me in (Conversations with Debra Bonde) in FridayMusings. Remind me to send you a better picture. Add my name in the We Love Livonia ad again this year.

The Observer & Eccentric Media is now accepting artist and crafter registrations for its first Arts & Craft Show to be held on Saturday, October 25, 2014 at the Quality Inn & Suites on Plymouth Road in Livonia from 10 a.m. to 5 p.m.


Artists and crafters of various media are invited to register for this one day event. Sign-up during our EARLY BIRD REGISTRATION for ONLY $90!


Early Bird registration ends August 29, 2014. Space is available. For more information or with questions email

cbjordan@hometownlife.com

.

Are your family members

Livonia has an outstanding Library. Use it.