Friday Musings

Friday Musings November 20, 2015 r william joyner, typewriter
Share Musings with your friends. All Livonia. All the time. All ways positive.
Meet Your Extended Hometown Family
Your Suburban Escape. Livonia. Since 1835.
This and that. . .The Livonia City Council moved quickly Monday night to appoint Adriane Spencer to serve from December 1 through December 30 as Deputy Clerk. This allows the Clerk's office to continue functioning until newly elected Clerk Susan Nash takes over in January.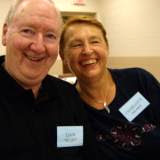 Livonia's Liam Neary, of Redford Theatre fame, spent the last week in Providence Hospital undergoing a heart procedure. Doing well now as evidenced by his first stop after checking out of the hospital being The Blue Plate Diner. Still wearing his hospital wrist band he and Charlotte settled in for dinner. And he looked great.
ABOVE THE FOLD WITH THE TYPEWRITER
This past year we heard candidates and citizen groups refining while defining the concept
of downtown Livonia. One common thread throughout the discussion has been entertainment, families, art, culture and history blending to create a number of vibrant downtown locations.
December is a perfect illustration of four downtown locations that would make any Livonia resident proud while providing each of the elements candidates talked about and citizens asked for.
Let's start at downtown Civic Center Campus
December 1st
with the FREE Caroling and Tree Lighting Ceremony in partnership with the Livonia Parks and Recreation, Livonia Community Chorus, Busch's, Livonia Public Library and Livonia Rotary.
Public. Private. Volunteer. Partnering to showcase Livonia. Our hometown.
Four days later, December 5th, the Louis Schmidt Auditorium will be the scene of our Livonia Symphony Orchestra presenting A Yuletide Tapestry featuring the Angie Hahn Academy of Dance. A bargain at $20 adult and $10 student.
One day later,
December 6th
, our historic Greenmead Village downtown hosts a FREE concert with the Livonia Community Chorus at the historic Newburgh Church.
Public. Volunteer. Partnering to showcase Livonia. Our hometown.
Fourteen days later,
December 20th
, again the Louis Schmidt Auditorium will host the first official concert of the 51st year of the Livonia Community Chorus in partnership with the Livonia Parks and Recreation, St. Mary Mercy Hospital, Invest with Melissa Pilzner, AlphaUSA, Dr. Gary Feucht, FridayMusings. Another bargain at $12 adults and $10 seniors/students.
Public. Private. Volunteer. Public Private. Volunteer. Partnering to showcase Livonia. Our hometown.
Ten days later on New Year's Eve Thursday,
December 31st
at our Livonia Community Recreation Center you can bring in 2016. Let's bring in 2016 as a community! Get the family and friends together for
a New Year's Celebration you won't forget! Enjoy an evening of swimming, playing on a giant inflatable, climbing the Rock Wall, holiday crafts, and face painting, dodge ball, food, music, dance, a SURPRISE entertainer and much more!
Pre-Registration Required and tickets must be purchased in person at the LCRC. Tickets go on sale December 1. If you would like to know more about the LCRC New Years Party, contact the LCRC at
734-466-2900
. Kids one year/under free!
We can talk all day long about what we want. Livonia has a tree lighting and caroling and you are invited to meet and mingle. Chat up new friends. Watch the smile on the face of a child. Downtown Livonia.
We have two holiday concerts at Louis Schmidt Auditorium and you are invited to clap, tap your feet, meet and mingle. Watch the wild eyed look on a child's face as the wonderment of music takes them around the world in anticipation of the visit by Santa. Downtown Livonia.
We have a time worn tradition of a concert honoring Christmas at our historic Newburgh Church and you
are invited to turn the clock back. Put a smile on your face thinking of what it was like as the harvest season ended and small towns joined together to practice their faith before a cold winter.
Downtown Livonia.
You were a candidate running for office or a candidate winning an office or a neighbor who wants to connect with people in a fun, small town, hometown setting. Here you go. Let's take advantage of what we have that other communities would love to have.
A vibrant art community. Multiple downtown opportunities. A blend of history, art, families and tradition that you will not find anywhere else. Anywhere. Your downtown, hometown Livonia.
Free tickets available to Musings readers. December 20 Chorus Concert

The first 30 Musings readers who drop me a note will receive two free tickets to the Livonia Civic Chorus December 20th concert. Free. Just like so many downtown Livonia activities. Look forward to your email at
rwilliamjoyner@gmail.com
so I can send you the tickets. It was a full house last year so be sure to get your tickets. Be a part of celebrating Livonia excellence.
Deadline for submitting applications for the 1835 Livonia City Hall of Fame Class of 2016 is 4:00 PM

December 30




Voting during Month of January.

Winners announced on February 12. Community reception February 14.

Pick your downtown event and take advantage of all Livonia has to offer

Month of November




Livonia Fine Arts Gallery







November 21




Grandma's Attic @

Greenmead

10:00 -- 4:00 -- no charge

Grandma's Attic @

Greenmead




November 21




Merri-Bowl Lanes

2:00 - 4:00.




November 23

@ 7:00

Justin Zigiranyirazo, a genocide survivor from Kibuye, Rwanda,

Livonia Civic Center Library. Sponsored by Human Relations Commission.




November 26

Happy Thanksgiving




December 5







Annual Livonia Christmas Walk featuring Greenmead's own Simmons Hill House and 6 special homes in Livonia. Get your tickets at Greenmead Historical Park, call 248-477-7375 M-F 9-5.




December 5

@ 4:00








Livonia Symphony Orchestra

Angie Hahn Academy of Dance







December 5




Buy a Livonia Goodfellows special paper. Learn about Goodfellows activities and support helping assure "No Child Without A Christmas." On sale all day at numerous Livonia retail establishments.




December 5 @ 6:00 PM








Jazz Christmas


with the Paul Keller Quintet


Open Arms Church








December 6

@ 3:00 PM

Free at Greenmead Church




December 7

@ 6:30







Recycling Works.

Livonia City Hall













December 20 @ 3:00


Livonia Civic Chorus


"It's Christmas Time, fa la la"


Louis Schmidt Auditorium





Livonia Community Chorus 51st Year

In Partnership with these Presenting Sponsors:




Invest with Melissa Pilzner

St. Mary Mercy Hospital

Livonia Parks and Recreation

AlphaUSA

Dr. Gary Feucht Plymouth Dentistry




FridayMusings

Supported by

(in formation):


Councilwoman Kathleen McIntyre




Tim Klisz @ Klisz Law Office




Franklin Patriots. Go. Fight. Win.


Unity may have helped the Franklin High School Patriots football team win seven straight games advancing to play this Saturday against Detroit Martin Luther King-Detroit.

Go Patriots. Make this a year to remember. Livonia is rooting you on. Go. Fight. Win. Is that too antiquated to cheer? Who cares. Go. Fight. Win.


Reconciliation in a troubled world.

Join your Livonia neighbors this Thanksgiving season in seeking hope.


Our Livonia Human Relations Commission invites you to join them this coming Monday at a special program on how hope, thanksgiving and forgiveness can prevail to bring peace.




















Livonia's Hometown Downtown Theatre

A child gets a book and a smile.

A perfect gift this holiday season.


If you are looking for a gift that feels good to give and to receive ... a gift with the side benefit of giving a child a braille book, please consider Seedlings' tribute cards. For a $10 donation, you will receive a card that you can give to a friend or family member that says: In your honor, a donation has been made to Seedlings Braille Books for Children ... A book will be inscribed in your name!



Livonia. Making recycling work.

Pantry 4 Paws

Pet Food Assistance


With the holidays fast approaching and some families struggling to provide a Christmas for their children, Tail Wagger's 1990 would like the community to know that family pets can enjoy the holiday season by receiving help from their Pantry 4 Paws Pet Food Assistance Program.

The community is encouraged to help fill the Pantry by dropping off food and/or supplies for both dogs and cats to the Tail Wagger's office located at 28402 Five Mile Rd., Livonia (between Middlebelt and Inkster). The goal is to collect enough food so that dogs and cats in the community can have a little something special under the tree for them this holiday season. We welcome gift cards to Petsmart, Petco, Target, Meijer and Walmart.

The Pantry 4 Paws Pet Food Assistance Program gives temporary assistance to pet owners so their animals can stay with the family they have grown to love. Founder Laura Zain says "The goal of the Pantry 4 Paws program is to help eliminate additional financial stress on a family during the holiday season and to ensure the animals of the community are being fed and not going to sleep hungry at night".

Families in need of pet food assistance can confidentially contact the Tail Wagger's office at 734-855-4077 at tailwaggers.1990@yahoo.com. All calls will be kept confidential and arrangements to pick up food must be made in advance.

Financial contributions can be made through the website at: www.tailwaggers1990.org or by mail to: 28402 Five Mile Rd., Livonia, MI 48154. All financial contributions are tax-deductible.





Baseball with son Paul. I am ready for the season to start. Really ready.

The bottom of the barrel

FridayMusings is published each Monday and Friday or Sunday and Thursday depending on when the typewriter has enough Livonia information to share.

Two weeks are taken off in August

and two weeks in December if there

are movies that must be given priority.

Richard Joyner IV aka the typewriter